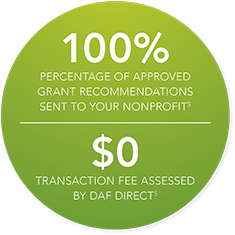 Did You Know?
DAF donors give more: the average grant size from the two largest DAFs is approximately $4,000.3,4
Majority of DAF donors do research on nonprofit and third-party websites prior to giving.3
Fundraising Benefits
Welcome Donations from a Growing Donor Base
DAF Direct helps you to welcome DAF donors by making it easier for donors to recommend a DAF grant at the very moment they are online conducting research about your organization. Online fundraising efforts are becoming more essential; online giving grew 9.2% in 2015 compared to 2014, and made up 7.1% of all fundraising in 2015.1 Furthermore, Nearly 14% of online donations were made on a mobile device in 2015.2 DAF donors, in particular, have embraced online giving, and the nation's largest DAF program recently reported that its donors made 87% of their grant recommendations online.3
DAF Direct provides the opportunity to build relationships with your DAF donors. Names and addresses of donors were included with 92% of the grants made by the nation's largest DAF program, while 42% of the grants were designated to go "where needed most."3 This is the level of engagement that the nonprofit sector has come to expect from DAF donors.
Make the Most of DAF Direct:
Position the DAF Direct application or DAF Direct link on your donation page in a prominent, high-traffic location next to other acceptable payment methods (check, credit card, etc.).
Raise awareness that you welcome DAF grants via DAF Direct from donors in all of your fundraising communications, including social media channels, emails, direct mail, and annual reports.
Integrate DAF Direct into your online fundraising campaigns as a payment option.
Chose the DAF Direct Option That Is Best for You
Both DAF Direct options will allow DAF donors to initiate grant recommendations from their donor-advised funds directly from your website. However, depending on how you plan to incorporate DAF Direct into your fundraising activities, either the widget or the link may be more appropriate.

Get DAF Direct and start growing your donor base today!
See below for other nonprofits like yours that use DAF Direct to fundraise.